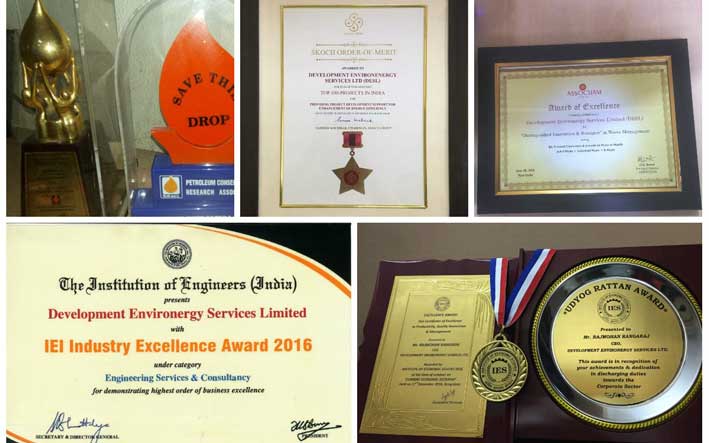 Recognition and Awards
"IEI Industry Excellence Award 2016" conferred by the Institute of Engineers (IEI) under Engineering Services & Consultancy for demonstrating highest order of business excellence- Dec 2016.
"Udyog Rattan Award" conferred to Mr. R. Rajmohan, CEO-DESL by the Institute of Economic Studies (IES) on December 16th 2016.
"Excellence Award" to DESL conferred by the Institute of Economic Studies (IES) on December 16th 2016.
"Skoch Order of Merit" award at the Skoch Smart Technology Award 2016 for qualifying amongst top 100 projects in India for 'Providing project development support for enhancement of energy efficiency'.
"Certificate of Merit for Best Energy Auditor" to Mr. R Rajmohan, CEO-DESL at the National Energy Conservation Award 2016 by Bureau of Energy Efficiency (BEE), Ministry of Power, GoI.
"Distinguished Innovation & Research in Waste Management" award at the 4th National Conference and Awards on Waste to Wealth -2016 by ASSOCHAM India.
"Parivartan Sustainability Leadership Award" for catalyzing energy efficiency services in India awarded to Dr G C Datta Roy, 2012 by Sustainability Outlook, India.
"Best Energy Service Company" for four years (2001-02, 2002-03, 2003-04, and 2005-06) awarded by Petroleum Conservation Research Association, India.
Client Appreciation
"I, on behalf of ONGC, wish to place on record the outstanding contribution made by DESL and their employees in enabling ONGC to earn Platinum Rating for our building, Deendayal Upadhyaya Urja Bhawan- Green Buildingat Vasant Kunj, New Delhi, one of the largest buildings with Platinum rating outside the United States of America. Your company and employees need due appreciation for helping us achieve this feat."
-Mr. JK Sharma, General Manager (Electrical), Oil and Natural Gas Corporation Ltd. (ONGC)
"The government of Malawi engaged DESL to conduct a feasibility study on the prospects of co-generation in two sugar mills that the country has. They actively worked for three aspects of the project: Technical, Policy and Tariff side. I found that their involvement during various workshops was very interactive and participatory."
-Ms. Lucy Chimombo, Principal Economist- Ministry of Natural Resources, Energy and Mining, Govt. of Malawi
"DESL has been playing a very important role in developing the waste-to-energy technology in India. I would like to record my appreciation of the contribution made by DESL in engineering Waste-to Energy plant, Ghazipur, implemented by IL&FS Environment."
-Mr. Mahesh Babu, MD- IL&FS Environment
"We have found DESL fully equipped for proper project planning, unique engineering practices including M&V of energy savings. Measures adopted at Palika Kendra have been a success as an experiment."
-BP Mishra, NDMC
I want to thank you and your team for presenting various energy saving opportunities. Your team exhibited enormous flexibility, comradeship and cooperation and have evaluated all the possibilities using scientific tools and fundamentals.
-AK Rambal, VP-Manufacturing, Solaris Biochemicals
"I wish to thank you and your team for presenting various energy saving opportunities which we could take advantage of. Your team worked with enormous flexibility and co-operation with our plant team using scientific tools and methodologies."
-Roshan Tamak, Business Head, Olam Agro India Ltd.
"The Surat Clean Air Project report was prepared by your team with valuable guidance from yourself. We would like to thank you for the key findings that you provided to us, especially on the energy aspects in the textile industry."
-Eric Hestin, Dy. CEO, 2EI